If you own your own home in Orlando, FL..... You might be wondering about the real estate market trends.
Or maybe you've heard it's a seller's market and you have found yourself asking the question..."How much is my house worth"?
Take a look here at the real estate market statistics according Realwealth Network.
It is true that there is a lack of inventory over all. The current real estate market is 3.5% down from last year in current active listings. Here is a breakdown by Orlando areas and what is on the market.
Here is your Orlando snap shot showing the current home price is $446,000. And the average price per sq. ft. is $196 and days on the market is at an all time low at 88.
Here's a look at Winter Garden..
Here is Windermere, FL ..
Now you have an idea of some of the areas local trends and pricing but how do you arrive at the price of your home. Well, before I state the obvious always call a realtor to help you with your pricing strategy. A good realtor knows how to arrive at a number and then be able to make adjustments accordingly based on how much traffic the home is getting both online and in person.
Before you price your home, you'll want to look at your homes overall health.
What is the condition inside and out?
The appraiser will look at:
The total land area- acreage that the home is on

The condition of the home

Make sure there is no lead-based paint or chinese drywall - this is usually found in homes built before 1978

Age / condition of the roof
Interior
Heated square footage / number of bedrooms versus bathrooms

HVAC unit is clean and working

All appliances are upgraded or newer and in good condition

Garage, or parking

Plumbing / You'll want to check to see if you have polybutylene ( see the image to the right)
If you do have polybutylene you may want to think about having your house re-plumbed. Call a certified plumber and get at least three quotes before hiring someone. This will make your home less likely to falling short when it comes to inspections or appraisal. Also, the new buyer will be more likely to afford home owners insurance with new plumbing than without.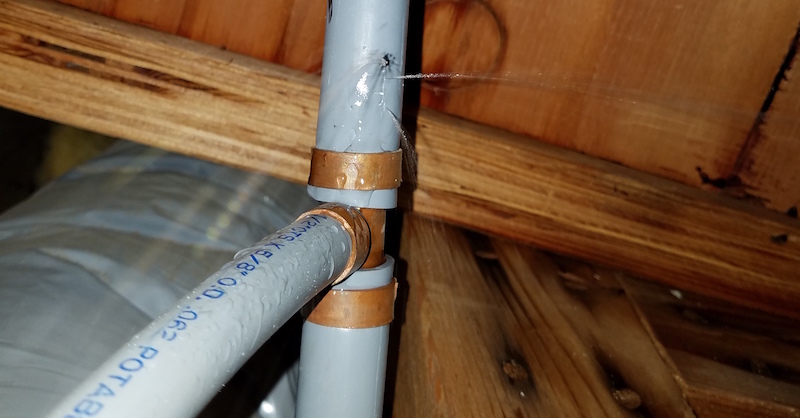 Here are some other things to add to your appraisal checklist.
Check your electric garage door opener to make sure it's working

Secure a handrail on steps or stairwells

Secure second floor doors with decks

Secure a railing to any and all raised decks

Ensure all utilities are functional with no safety issues

Ensure water, electricity and air conditioning is functional

Address any plumbing, roof leaks or stains

Check for cracks in the walls, ceiling or foundation

Check for water intrusion through the foundation

Ensure your roof is sound and has at least three years of economic life remaining
If you're thinking about doing some upgrades before selling your home, you may want to consider the cost versus how much more you will be able to get back or your ROI. In a seller's market it is not necessary to upgrade your home to get the highest return for your investment but rather make sure everything is functioning and in good working condition.
Change Only What Will Add the Most Value
The kitchen and bathroom hold the biggest opportunity for return on investment.
In astudyconducted by G. Stacy Sirmans, a professor of real estate at Florida State University, where he reviewed150 variablesthat affect home value. It was sponsored by the National Association of Realtors. The kitchen and bathroom held the most weight toward a higher home value.
Some other elements that greatly increased the home worth are wood floors, landscaping, and an enclosed garage.
Still, most experts in the area agree that a clean home shows more value than anything. Making sure your home shows pride of ownership leaves the appraiser feeling like you take good care of your home.
Curb appeal is also very important to the buyer and also the appraiser. You'll want to have good curb appeal inside and out for potential buyers and the appraiser.
Last but not least here's a quick guide to help you pricing your home.
Look at homes that have sold in your neighborhood

Only compare your home to homes that are comparable in size or bedroom count

Look at homes that have sold in the last three months ONLY, unless there just isn't any then you can look further back

Only pull comps that are within a mile radius or go further if there simply are none

Try to find as many similarities for instance Like Versus Like (Pool Versus Pool)
After you prepare your home by doing these things you will be all set. Give us a call today if you are thinking about selling your home. We would love to come give you a detailed analysis of your home. Or Contact Us here.
Thanks for coming to Our Blog to read this article, leave a comment below if you have any questions about the home selling or purchasing process. We love to help!
Sincerely,
Franchesca King
Meet Richard & Franchesca known as the Crown Home Group they believe in "Building Lasting Relationships". Together Richard and Franchesca have a combined 20+ years of experience in real estate. ....